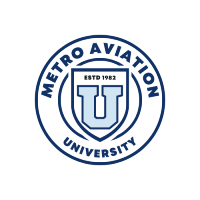 We're intentionally building our current and future leaders. Metro U is where concepts become reality and you get the tools to go NEXT LEVEL.

Tasks and resources help you apply lessons to the workplace and beyond. Practical steps help drive the principles home!

Students will receive a monthly leadership lesson with key principles illustrated through stories, videos, and engaging content.
We are embarking on this adventure in partnership with our friends at Wildsparq!
Wildsparq is a powerful online leadership development tool built for companies that care about their people, their legacy, and the impact they will make in the world.
Applications are accepted each semester, so be on the lookout for our next application period. At this time, the program is only available to Metro Aviation employees with an active employment status (not on LOA) who have been with the company for at least one year.
Worried about tuition? Don't! It's on Metro! We want to see you grow, develop, and SUCCEED with us!

METRO U IS FOR ANYONE WHO WANTS TO MOTIVATE OTHERS AND LEAD BY EXAMPLE AT WORK AND AT HOME.
IF YOU ARE A CURRENT LEADER OR HAVE ASPIRATIONS TO BE A LEADER:
Frequently Asked Questions
How long of a commitment is this?
Metro U requires 2-3 hours of your time each month, including your monthly team meeting.
Once enrolled, we ask that you commit to Metro U for one year. After that, you can continue to keep progressing through the program or choose to take a break.
Do I participate as an individual or with a group?
Metro U is about you! You will be placed on a team with other students throughout the company and can earn points as a team, but the end goal is to develop your leadership skills!
How do I earn points within Wildsparq?
Completing lessons, commenting on other user's posts, and completing all current bonus resources will earn you points. You can also earn points for doing the lesson earlier in the month or commenting on the team stream (one point per day).
Is Metro U virtual or in-person?
Metro U is completely virtual, and you can complete your coursework on your schedule, unless you want to be competitive and make sure you maximize your points (in that case, make sure you complete the coursework as soon as it is released each month).
No pressure.
Metro U will be hosting a kickoff event with Wildsparq at the end of July. Please be on the lookout for dates and times coming your way.
I'm not a manager. Can I still apply?
Yes! This is for everyone!
We just celebrated 40 years and have no desire to slow down. The next four decades will require a great group of leaders. Metro U is open to anyone that has been at Metro at least one year and no previous leadership experience is required.
I've been here for decades. I don't think this benefits me.
Leaders can always be better, and many times the long-term leaders forget the basics of leading. We aren't just molding new leaders, we're breaking the habits of complacency and we want you to jump in with both feet!
There is something for everyone. From the "board room to family room," you will learn to be a leader in the workplace, community, and your home.
I have more questions. Who can I talk to?
No worries!
Email us at metrou@metroaviation.com!